Networks Dave's hosted for include
"Dave Aizer is one of the best hosts, live or otherwise, in the  business. He's quick on his feet, knows how to recover from an unexpected surprise and always brings it home. He's coached a number of Nickelodeon talent through the years, and they've all come out stronger hosts. He's a natural."
– RICH BARRY, VP/Creative Director, Viacom International Media Networks
A Bit About Dave
D
ave's award-winning 20 year career as a TV host includes game shows, morning shows, talk shows, sporting events and red carpets. He's hosted shows for CBS, Nickelodeon, The CW, FOX Sports Florida and more. He may be best known for hosting Nickelodeon's "Slime Time Live," the longest running live game show in the network's history. Dave loves the rush of "going live" and treasures every moment on camera.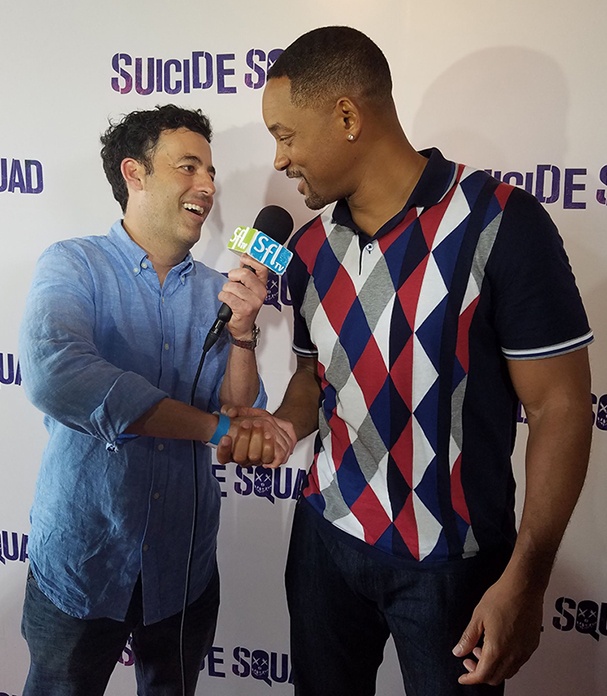 DAVE ON FOX SPORTS FLORIDA
Dave and his co-host Kailey Mizelle break down the Florida High School Football Playoffs with expert analyst Josh Wilson. Each week Dave offers insight about Florida's best high school teams and provides highlights from some of the best games.
DAVE COVERS THE CHAMPIONSHIP GAME
Dave recaps a thrilling Florida high school state championship football game between Chaminade-Madonna and Florida High, as they battled for the Class-3a title. In addition to hosting this highlight package, Dave wrote it as well.
DAVE AND CARY ELWES
Dave and Cary talk about season three of "Stranger Things," including Cary's very shady character, Mayor Kline. Plus, they look back at Cary's legendary career.
DAVE AND JAY HERNANDEZ
Dave and Jay talk about "Toy Story 4," including the film's incredible cast, the new character "Forky," and Jay's evolution from playing younger characters to playing dads.
DAVE AND CHARLES MELTON & YARA SHAHIDI
Dave chats with Charles and Yara about love, fate, romance and … karaoke. Hear what their favorite karaoke songs are; the answers might surprise you!
DAVE AND ASIA KATE DILLON & MARK DACASCOS
Dave speaks with Asia & Mark  about their sinister roles in the new John Wick movie, including the incredible fight choreography and their experiences with Keanu Reeves.
DAVE AND SETH ROGEN & O'SHEA JACKSON
Dave chats with Seth Rogen and O'Shea Jackson, Jr about buddy comedies, video game movies, and what their younger selves would think of them as grownups.
DAVE AND LIN-MANUEL MIRANDA
Dave chats with Lin-Manuel about "Mary Poppins Returns," "Hamilton," and what's next for Lin, including potentially hosting the Oscars.
DAVE AND VANESSA HUDGENS
Dave and Vanessa Hudgens chat about her new film "Second Act," including what it was like co-starring with Jennifer Lopez and what lies Vanessa once told to land a movie role.
DAVE AND MICHAEL B. JORDAN
Dave and Michael B. Jordan discuss the metamorphosis of Michael's character in "Creed II." Specifically how he grows as a parent and father. They even arrange a fight between them for "Creed III"!
DAVE AND THE "BOHEMIAN RHAPSODY" CAST
Dave interviews the stars of "Bohemian Rhapsody."  They share what it was like taking on the persona of Queen, how the original cast members helped them prepare for the roles.
DAVE AND SHAQ
Dave and Shaquille O'Neal chat about Shaq's new movie "Uncle Drew," his slick dance moves, and the only time his high school team ever lost.
DAVE AND THE CAST OF "TAG"
Dave chats with Jon Hamm, Jeremy Renner, Ed Helms, Hannibal Buress and Jake Johnson about the buddy comedy "Tag." And the cast members share their bucket list items with Dave.
DAVE WITH JOHN  & KELLY
John and Kelly chat with Dave about how they transformed into John and Victoria Gotti and what it was like playing the characters with the actual Gotti family watching on set.
Visit Dave's YouTube channel
for more interviews with A-list celebrities.