Dave's Speaking Portfolio Includes
"As a speaker, Dave brings his natural warmth, wit, and love of people to encourage all of us to meet our challenges with a good dose of self-reflection. Through his inspiring story and touching vulnerability, he reminds us to embrace life. He captures that desire in all of us to look calm as we sail rough waters, while we actually feel well-founded anxiety. With his skill and experience Dave helps us learn to love all of these parts of our shared humanity."
– MARILYN METCALF, Patient Engagement Lead, GlaxoSmithKline
Book Dave To Speak At Your Event:
Here's Dave's TEDx Talk chronicling his battle with melanoma, what he learned, and how all of us should embrace our personal challenges and insecurities.
A
s a keynote speaker, Dave speaks primarily on two topics: his battle with stage 3 melanoma, and what it taught him about life, love and gratitude; and dynamic communication, and how audience members can become powerful public speaking and on camera performers.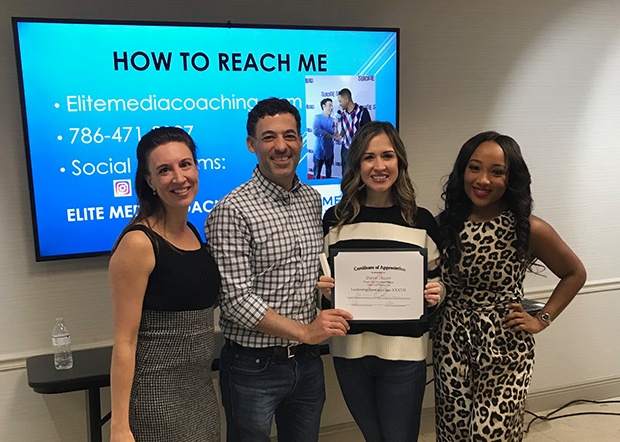 "Building Your Brand Through Media" 
Dave offers valuable insight from his years as a television host, having interviewed thousands of business leaders. He's seen plenty of good guests and plenty of not so good guests. He gives practical tips on how to position yourself from a place of strength, how to make your message as streamlined as possible, how to showcase what makes you truly unique and how to choose the appropriate media channels to disseminate your message.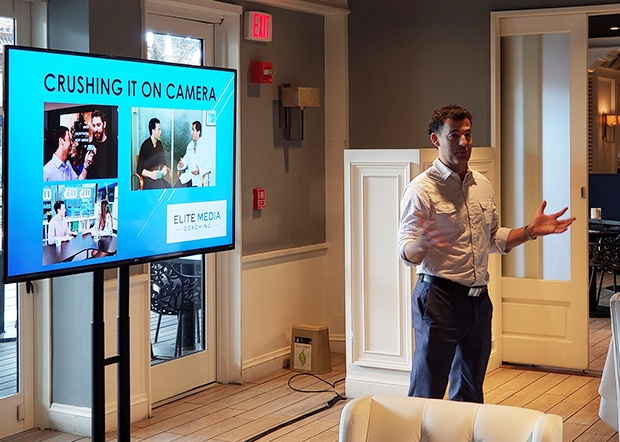 "How To Excel On Camera And On Stage" 
This speech is perfect for anybody who wants to improve their performance skills, whether they are a business leader, an entrepreneur, a broadcaster or a social media influencer. Dave breaks down his unique methodology, "The 3 P's", and dives into its components: Preparation, Poise and Performance. He covers everything from writing powerful material, to actively rehearsing, to positive "permission slips" that build confidence, to the nuances of effective performance, including storytelling, vocal inflection, harnessing your energy and much more.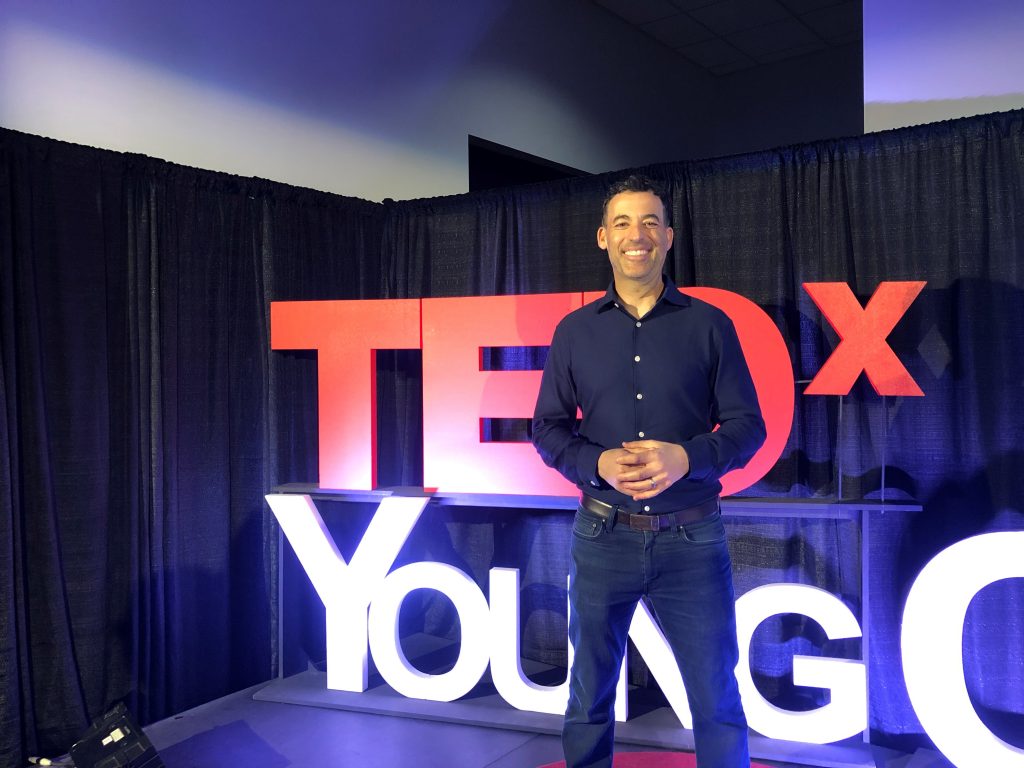 "Sweating The Small Stuff"
This was the subject of Dave's TEDx Talk. Dave survived stage 3 melanoma on his face and neck, and during a 14 1/2 hour surgery doctors removed his left parotid (or salivary) gland because it was cancerous. Now, as a result, Dave sweats instead of salivates every time he takes a bite of food. For years, this caused him considerable self-consciousness and embarrassment and led to anger, anxiety and self-loathing. Ultimately, Dave realized his "sweaty face" was a battle scar and nothing to be ashamed of. He embraced his insecurity and re-framed it as a source of strength, not weakness. It became a teaching point for Dave, as he used it to educate others about the dangers of melanoma. In this speech, Dave encourages the audience to embrace whatever "small stuff" they're insecure about and sweat it out of their bodies, into the universe and use it to inspire people. When they do that, their anxieties will be replaced by purpose, and there's no greater feeling in the world!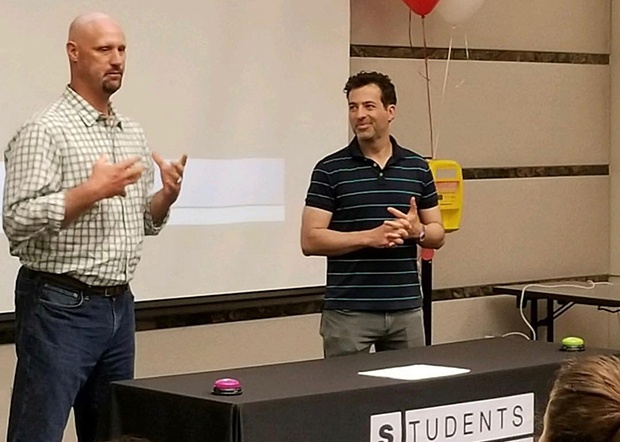 "Tackling Cancer: The Journey From Struggle To Strength"
Dave can deliver this speech by himself or with his friend, and fellow cancer survivor, TJ Sharpe. Dave is a stage 3 melanoma survivor and TJ is a stage 4 melanoma survivor. Together, they are "Stage 7 Survivors" and take the audience on their journey through the "Seven Stages From Struggle To Strength." This speech motivates the audience members to confront whatever struggles plague them, with the understanding there will be highs and lows along the way. But the lesson is, if you keep fighting, you'll become a stronger, more grateful, more present person and you'll be inspired to pay your good fortune forward to others.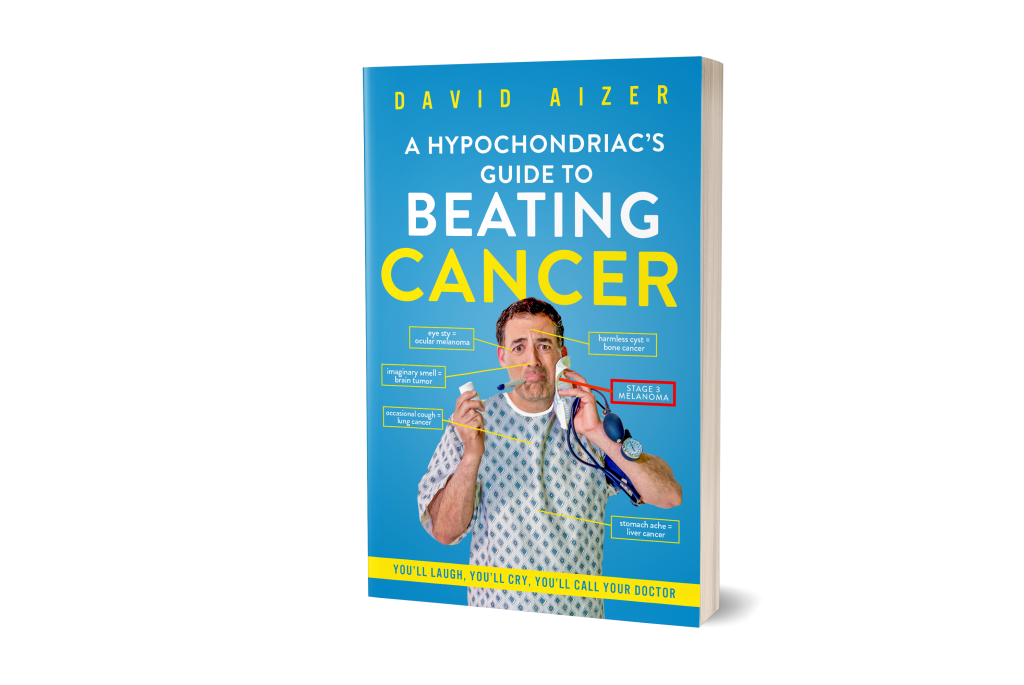 "A Hypochondriac's Guide To Beating Cancer"
This is a funny, autobiographical journey through Dave's battle with stage 3 melanoma, and the title of his Amazon bestselling memoir. It's a cruel joke to give cancer to a hypochondriac and Dave spent the first two years after his diagnosis assuming EVERYTHING was cancer. The cyst on his forehead: bone cancer. The two-day headache: a brain tumor. The time his foot went numb: clearly a spinal tumor. Turns out, none of those maladies proved to be serious and after self-reflection, therapy and long laughs at his own expense he was able to turn his paranoia into purpose, and emerge a stronger, more grateful person. This speech appeals to those dealing with cancer or other hardships who are particularly frightened or hard on themselves. By laughing with (at) Dave, they'll find comfort, strength and optimism.