LIGHTS, CAMERA, SPEECH!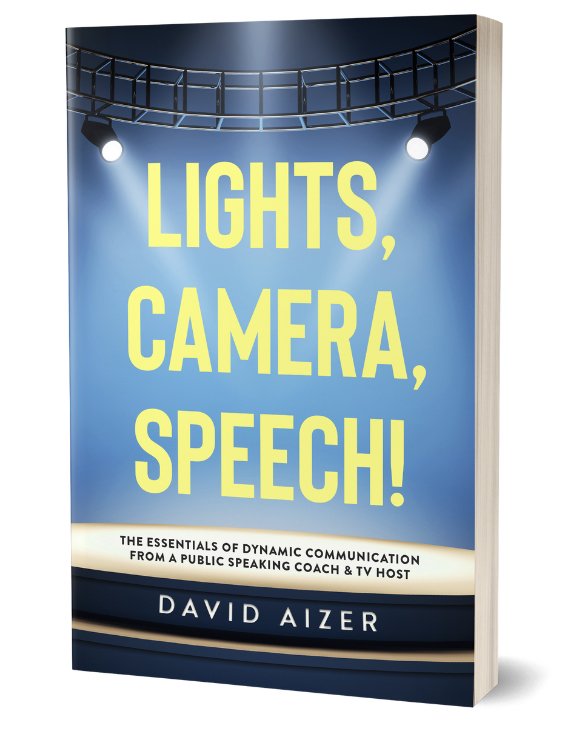 Is your fear of public speaking preventing you from growing your brand? Do you struggle with storytelling and can't seem to connect with your audience? If so, it's time for you to become an ELITE presenter. Read More
Communications expert Dave Aizer shares his dynamic platform based on his 20-year career as a TV host, an inspirational speaker, and a public speaking and media trainer. Dave's hosted shows for The CW, CBS, FOX Sports, Nickelodeon, and more, and has compiled thousands of hours on camera and on stage. His communication philosophy is called "The Three P's – Preparation, Poise, and Performance" and Dave provides actionable techniques so you can master each stage.
From keynote speaking; to panels; to TV segments, social media videos, job interviews, and more, Dave has you covered. Get ready to become a masterful presenter and own the room every single time! To purchase this book, click here.
"I went to Dave as green as they come. I was launching my business and was a nervous wreck on camera. Dave put me at ease, helped me focus, and provided guidance on improving my message and delivery. Thanks, Dave!"
– NIKKI LEVINE, Founder NikkiWellness.com
A HYPOCHONDRIAC'S GUIDE TO BEATING CANCER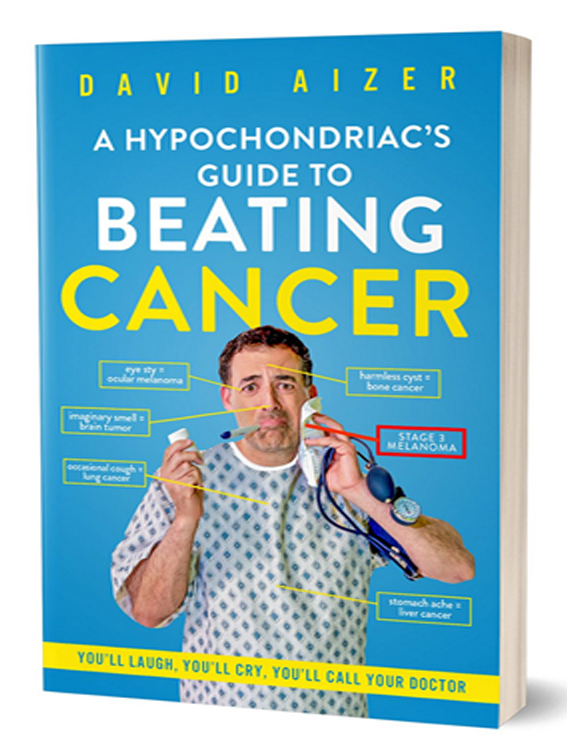 "A Hypochondriac's Guide To Beating Cancer" is Dave's memoir about the highs, lows, and neurotic meltdowns of his battle with stage 3 melanoma. It will make you laugh, make you cry, and probably make you call your doctor. Read More
Dave's goal with this book is to bring you joy (even if it's at Dave's expense), give you hope, and let you know it's okay to be scared, angry, and irrational if you're going through a crisis. Think of this as your "permission slip" book. Your guide to own your feelings, whatever they may be. "A Hypochondriac's Guide To Beating Cancer" reached #1 on Amazon's Best Seller list across multiple categories. To purchase this book, click here.
"Being a cancer survivor myself, I deeply appreciated David's perspective. I believe that David's story and personality are exactly what's needed to give people hope and healing for themselves and their families."
– WILLARD BARTH, Bestselling Author "The Anatomy of Transformation," Keynote Speaker
Blog Posts
Get Them On Your Side If you're appearing on TV or a podcast to promote your business, here's some advice to help you stand out: get the host on your side! You [...]
Listening, Pivoting and Passion You may not think sales is part of public speaking, but it most definitely is! To be an effective sales rep, and let's face it, most of us [...]
Make Your Videoconference Seamless How's your videoconference game? Are you able to keep your audience engaged? Do you feel like you lose them halfway through your presentation? One way to keep your presentation humming [...]
What If Your Deck Crashes? In this world of virtual presentations, one thing you must keep in mind is: stuff happens – and by that I mean, technical problems. Which means, if [...]
Make Exercise Part Of Your Routine You may not realize this, but there are numerous benefits to exercising, as it relates to public speaking. When I have a big speech to give, [...]
Dave Aizer
Use Your Inside Voice The DNC and RNC took place over the past few weeks, and there were a lot of speeches. Some good, some not so good, and some really loud. [...]
Dave Aizer
Start Strong, And Keep It Tight Having a dynamic, compelling demo reel is crucial to landing that coveted on camera job. In fact, most hiring managers won't take you seriously without one. [...]
Dave Aizer
Do These THREE Things To Stand Out Job interviews can be stressful and it's easy to get lost in the shuffle of applicants. So, how can you stand out and make sure [...]